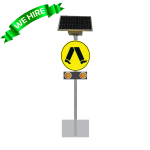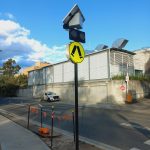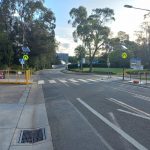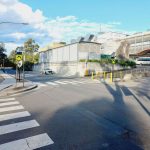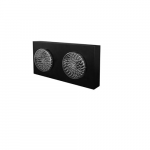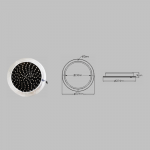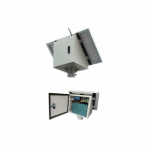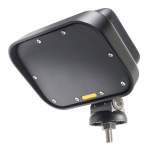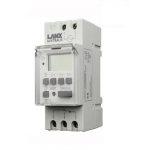 Solar LED Enhanced Road Signs
This solar system can be applied to any sign
Signs manufactured to Australian standards
Increase the visibility of the message and improve safety
Automatic dusk to dawn or 24 hour operation
> 5 nights autonomy
IP65 Waterproof design
Day and/or night operation
Optional doppler traffic radar available
Quality LIFeP04 battery
Simple install – Secures to a standard 60mm signpost
Alternative regulatory signs available
Efficient and effective visual enforcement
2-year warranty for faulty workmanship or component failure not influenced by external means
The solar LED enhancing of road signs is a simple and effective way of increasing the visibility of the message and improving safety for pedestrians and vehicles. The standard model employees a cased pair of synchronised ultra-bright reflective backed LEDs that operate day and/or night and are visible up to 1000 metres. The unit is available in either a fixed or portable version.
Options include:
Alternative sign face and size - Standard and custom signs available in any size
Fully backlit/edge lit sign face - The entire sign face is backlit illuminated and high output LEDs border the sign face
Edge lit sign face - High output LED\\\'s boarder the sign face
LED Push button - Sign face animation activated by pedestrian
Magnetic Switch - Sign face animation activated by gate or door opening
Pedestrian detection - Sign face animation automatically activated by approaching pedestrian
K Band radar traffic detection - Sign face animation automatically activated by approaching vehicle
Electronic Timer - Sign face animation automatically activated by electronic timer set by the client.
A solar panel connected to high-quality LiFeP04 battery allows up to 72 hours of LED operation from a full charge (setting dependent) The signs are manufactured to Australian standards from aluminum and 3M reflective material and attach to standard 76mm galvanised signposts. The solar panel can be rotated 360 degrees horizontally ensuring maximum photovoltaic conversion and minimum battery recharge time. This style of semi-integration solar panels are a great option for areas that do not receive full sun all day or where the best position for the sign face is not the optimum position for the solar panel
Technical Data
| | |
| --- | --- |
| Sign Face Material | 3M Class One Reflective |
| Solar Panel Wattage | 60W/80W |
| Display colour | Variable |
| LED Output | Variable |
| Lumen output | Variable |
| Battery Type | LIFePO4 |
| Battery Specifications | 36Ah/60Ah 12v |
| Autonomy | > 5 Nights, setting Dependent |
| Light Source | SMD LED |
| Mounting height | 2.1 – 3 metres |
| Standard mounting | Galvanised Steel Column |
| Warranty | 2 years |
OPERATIONAL MODES
Remote controllable selection of flashing dusk to dawn or constant 24 hour operation. Alternative modes of operation are available on request.
WHAT IS A LUMEN?
In simple terms, Lumens are a measure of the total amount of visible light from a lamp or light source. The higher the lumen rating, the "brighter" the lamp will work.
FAMILIAR EXAMPLES
A typical 4 x D cell battery maglite will emit approx. 70 lumens
The average path light using 2-3 LEDs emits 15-18 lumens
A 25W incandescent globe emits approximately 160 lumens