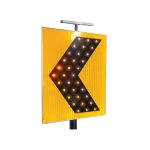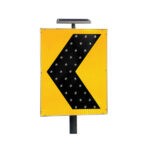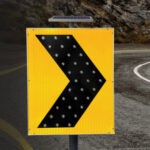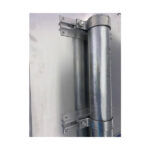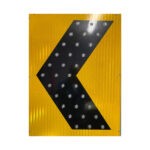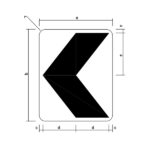 SOLAR CHEVRON SIGN
Signs manufactured to Australian standards
Increase the visibility of the message and improve safety
Automatic dusk to dawn operation
> 5 nights autonomy
IP65 Waterproof design
Day and/or night operation
Quality Lithium-ion battery
Simple install – Secures to a standard 60mm sign post
Alternative regulatory signs available
Efficient and effective visual enforcement
2 year warranty for faulty workmanship or component failure not influenced by external means.
Solar LED enhancing road signs is a simple and effective way to increase the visibility of the message and improve the safety of pedestrians and vehicles. The innovative technology employs a set of synchronised ultra-bright reflective backed LEDS that operate day and/or night and are visible up to 2000 metres. A solar panel connected to high-quality lithium-ion battery allows >5*24 hours of LED operation from a single full charge. The road signs offered are manufactured to Australian standards from aluminium and 3M reflective material and attach to standard 60mm galvanised signposts to provide efficient and effective visual enforcement.

Description
Technical Data
| | |
| --- | --- |
| SKU | SSD4-6A |
| Solar Panel Wattage | 5W |
| LED Output | 3.6W |
| Lumen Output | 500 lm |
| Battery Type | Lithium- ion |
| Battery Specifications | 40 high intensity CREE chips |
| 8.8AH 3.7V (32.56Wh) | 420mmH x 280mmW |
| Battery | 7.4V 11,000mah inbuilt lithium battery |
| Brightness | Approx. 800 lumen output |
| Material | Aluminium body, polycarbonate diffuser |
OPERATIONAL MODES
Remote controllable selection of flashing dusk to dawn or constant 24 hour operation. Alternative modes of operation are available on request.
WHAT IS A LUMEN?
In simple terms, Lumens are a measure of the total amount of visible light from a lamp or light source. The higher the lumen rating, the "brighter" the lamp will work.
FAMILIAR EXAMPLES
A typical 4 x D cell battery maglite will emit approx. 70 lumens
The average path light using 2-3 LEDs emits 15-18 lumens
A 25W incandescent globe emits approximately 160 lumens